To nedomyslela! Inak sa ani nedá komentovať správanie neznámej dievčiny, po totožnosti ktorej teraz pátra Polícia Slovenskej republiky. Žena sa totiž zrejme kvôli fotke na Instagrame vyfotila v zakázanej oblasti s chráneným kvetom. A to nemala robiť.
"Okrem lajkov za fotku ju čakajú aj opletačky so zákonom," píše Polícia SR na sociálnej sieti. Muži zákona vyhlásili pátranie po neznámej žene. Dôvodom je, že sa dopustila priestupku na úseku životného prostredia, ku ktorému malo dôjsť pred pár týždňami.
"Doposiaľ neznámy páchateľ sa pohyboval v chránenej oblasti Sandberg Bratislava – Devínska Nová Ves, kde mimo riadne vyznačeného chodníka prekonal oplotenie a odtrhol chránenú rastlinu kosatec nízky. Tohto konania sa dopustil v chránenej krajinnej rezervácii so 4 stupňom ochrany, ktorá je súčasťou územia európskeho významu," objasňuje polícia.
Polícia teraz prosí verejnosť o pomoc pri stotožnení tejto páchateľky. Akékoľvek informácie k totožnosti osoby môžete oznámiť na bezplatnom čísle polície 158, osobne na ktoromkoľvek policajnom oddelení prípadne formou súkromnej správy na facebookovom profile slovenskej  polície.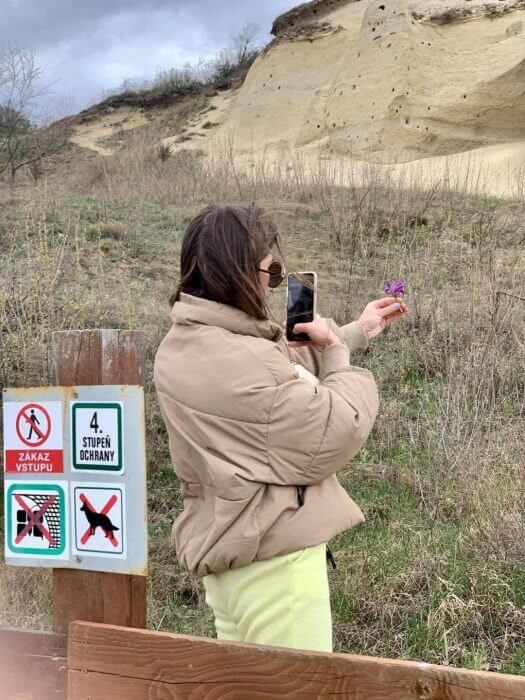 Zdroj/Foto: Facebook