Peter Pellegrini a Robert Fico počas nedávnej koaličnej krízy spojili sily a pustili sa do zbierania podpisov na vyhlásenie referenda o predčasných voľbách. Je otázne, či by niekdajší kolegovia zo strany Smer-SD spojili do takej miery, že by chceli ísť spolu do prípadnej vlády.
Uznávaný investigatívny novinár portálu aktuality.sk Marek Vagovič nedávno ponúkol na sociálnej sieti svojim fanúšikom možnosť spýtať sa ho na čokoľvek. Ľudia mu pokladali rôzne zaujímavé otázky, no jedna z nich bola obzvlášť pozoruhodná. Použije v prípade potreby Robert Fico nejaké kompromitujúce materiály na Petra Pellegriniho, ktorý po odchode zo strany Smer-SD založil vlastnú stranu Hlas-SD?
Má Fico niečo na Pellegriniho?
"Počula som, že Fico má nejaké kompro na Pelleho, ktoré plánuje použiť. Môže to byť pravda?" spýtala sa Mareka Vagoviča jedna jeho fanúšička. "Hovorí sa všeličo, ale môžu to byť klebety. Na druhej strane by ma prekvapilo, ak by sa Fico nijako nepoistil. Mal na to ľudí aj možnosti," odpísal jej investigatívny novinár portálu aktuality.sk.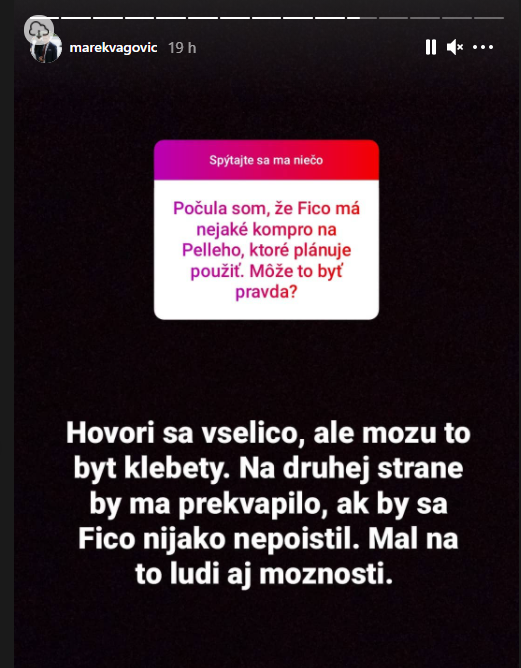 Zdroj/Foto: Facebook, Instagram