Rusko žiada od Slovenska, aby vrátilo vakcínu Sputnik V. Táto nečakaná správa poriadne pobúrila bývalého premiéra a aktuálne ministra financií Igora Matoviča, ktorý dodávku ruskej vakcíny vybavoval. Na sociálnej sieti zanechal drsný odkaz.
Slovensko podľa štátneho Ruského fondu priamych investícií (RDIF) porušilo kontrakt na dodávku očkovacej látky, uvádza sa v jeho stanovisku na sociálnej sieti Twitter.
"Keď sme priviezli Sputnik V na košické letisko, navreli im z nenávisti oči krvou. Spustili svoju geopolitickú špinavú hru proti "hybridnej zbrani" Ruska … a bolo im úplne jedno, či budú predčasné voľby a vráti sa mafia k moci. Dnes však svoje dielo dokonali – svojimi bludmi, ktoré cez Denník N pustili do celého sveta, primäli Rusov povedať dosť – a tí nás požiadali o vrátenie Sputnika a ukončenie zmluvy. GRATULUJEM IDIOTI! Zobrali ste si za rukojemníkov zdravie milióna ľudí na Slovensku! Buchnite si šampanské," napísal pobúrene Matovič.
"Vám, ktorým je to rovnako ľúto ako mne, sľubujem, že to nevzdám. Aj keď nateraz neviem ako ďalej," zakončil s tým, že viac informácii prinesie na piatkovej tlačovke o 10:30.
SLEDUJTE náš FACEBOOK a najnovšie informácie sa dozviete medzi prvými! Nájdete ho >>>TU<<<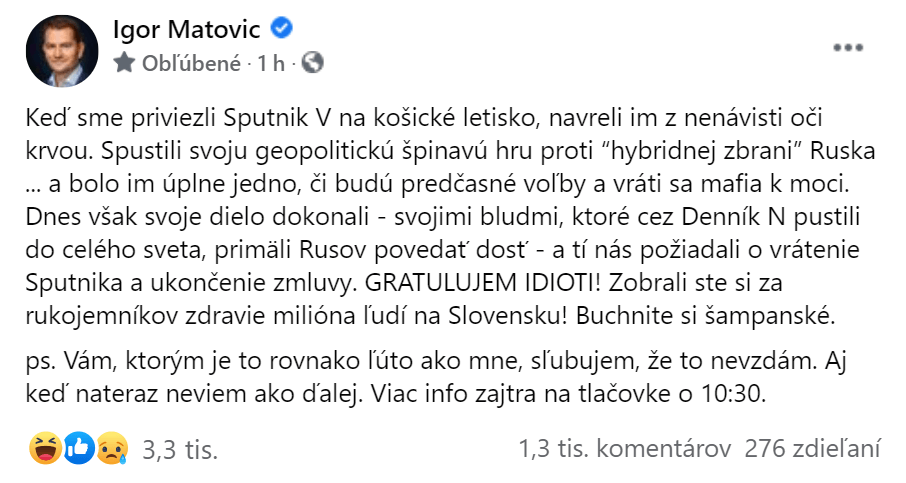 Zdroj/Foto: Facebook